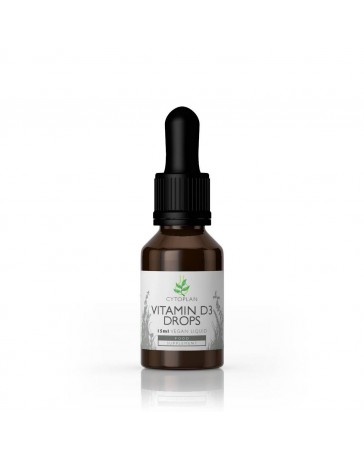  
Vitamin D3 Drops
Tax included
Delivery: 3 to 15 days for Europe
Ideal for vegetarians and vegans this vitamin D supplement comes in the form of vitamin D3 Drops and is suitable for all ages including children. Two drops provide 5µg (200iu) of vitamin D3.
Ideal for vegetarians and vegans, this vitamin D3 supplement comes in the form of drops and is suitable for all ages including children.
Vitamin D is frequently referred to as the sunshine vitamin, as sunlight is necessary for the synthesis of this vitamin (which is produced underneath the skin following exposure to sunlight)

Those at particular risk for vitamin D deficiency are the elderly (65 years+), those who rarely get outdoors (lack of sunshine) and people with dark skin. Children under five years of age are also at risk
Vitamin D contributes to normal:
absorption and utilisation of calcium and phosphorus

blood calcium levels

maintenance of bones and teeth

maintenance of normal muscle function

function of the immune system

vitamin D has a role in the process of cell division

vitamin D is needed for normal growth and development of bone in children
Vitamin D helps to reduce the risk of falling associated with postural instability and muscle weakness. Falling is a risk factor for bone fractures among men and women 60 years of age and older.

The Department of Health recommends babies from birth to 1 year of age who are being breastfed should be given a daily supplement containing 8.5 to 10µg (micrograms) of vitamin D, whether or not the mother is taking a supplement containing vitamin D. Please note they also recommend that all children aged 6 months to 5 years are given vitamin supplements containing vitamins A, C and D every day unless they are having more than 500ml (about a pint) of infant formula (which is fortified with vitamins). The Department of Health recommends that adults and children over the age of 1 should have 10µg of vitamin D a day.
As directed by a practitioner: 2 drops = 5µg (200 i.u.), 0.5 mls = 40µg (1600 i.u.)
Data sheet
concentration du produit

40 µg / 0,5 ml

Contenance

15 ml

Ingrédients

Vitamin D3 (plant derived cholecalciferol from lichen), medium chain triglycerides of coconut fatty acids, d-alpha-tocopherol (antioxidant).
Reviews
(1)
B Mélanie




mars 22, 2022




Remplace de zyma D

J'ai vite remplacé le zyma D de mon bébé allaité par ces gouttes, ma fille les prends beaucoup plus facilement et est en pleine santé bien que je ne sois pas très régulière (c'est généralement elle qui y pense, elle adore les prendre).
Only registered user can add review.
Login
Customers who bought this product also bought: