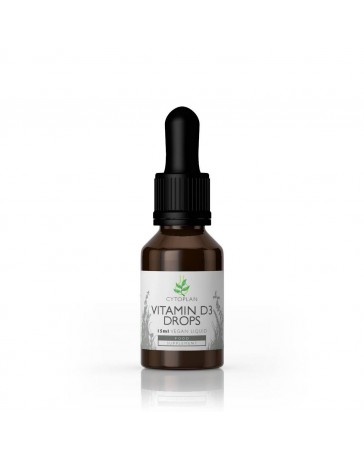  
Vitamin D3 Drops
Tax included
Delivery: 3 to 15 days for Europe
This lichen-derived vitamin D3 supplement comes in drop form and is suitable for all ages including children.
Vitamin D is often referred to as the sunshine vitamin because sunlight is necessary for the synthesis of this vitamin. People particularly at risk of vitamin D deficiency are the elderly, those who rarely go out, dark-skinned people and children.
The Ministry of Health recommends babies from birth to 1 year who are breastfed receive a daily supplement containing 8.5 to 10 mcg of vitamin D, whether the mother is supplementing or not. For children not consuming artificial milk, it is recommended to be supplemented with vitamins A, C and D from 6 months to 5 years.
The Ministry of Health recommends that adults and children over 1 year old consume 10 mcg of vitamin D daily.
Vitamin D3 is essential to the body, mainly for its action on calcium and phosphorus. It has positive actions on the maintenance of bones and teeth, muscle function, the functioning of the immune system...
It is especially essential for the growth and development of bones in children.
A vitamin D deficiency would influence our health in very different ways. Studies have shown that such a deficiency causes inconvenience, whether physical or moral.
Usage tips :

Take 2 drops or 5µg (200i.u.).

Precautions for use :

. Do not exceed the recommended daily dose
. Keep out of reach of children
. Store away from light, heat and humidity
. Suitable for vegetarians and vegans
. This product is a food supplement which should not replace a varied and balanced diet
Data sheet
concentration du produit

40 µg / 0,5 ml

Contenance

15 ml

Ingrédients

Vitamin D3 (plant derived cholecalciferol from lichen), medium chain triglycerides of coconut fatty acids, d-alpha-tocopherol (antioxidant).

DLUO

11/2023
You might also like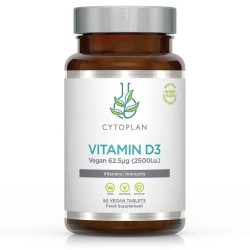 (0)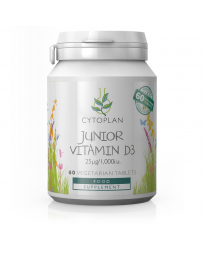 (0)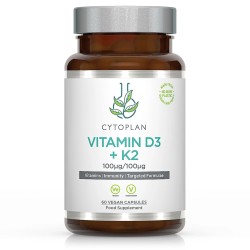 (0)
Reviews
(1)
B Mélanie




mars 22, 2022




Remplace de zyma D

J'ai vite remplacé le zyma D de mon bébé allaité par ces gouttes, ma fille les prends beaucoup plus facilement et est en pleine santé bien que je ne sois pas très régulière (c'est généralement elle qui y pense, elle adore les prendre).
Only registered user can add review.
Login
Customers who bought this product also bought: