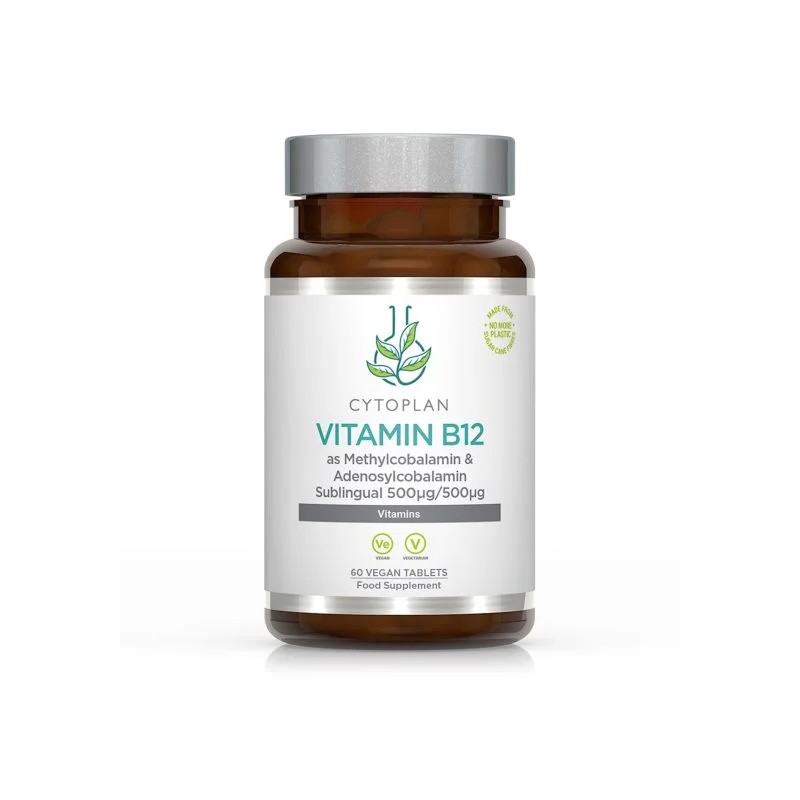  
Vitamin B12 - Méthylcobalamine
Tax included
Delivery: 3 to 15 days for Europe
A high potency active B12 supplement containing a combined dose of 1mg of methylcobalamin and adenosylcobalamin (i.e. 500µg of each), which are both active forms of this vitamin. People at particular risk of vitamin B12 deficiency include: those eating a vegan or vegetarian diet, people with low stomach acid or other digestive conditions leading to malabsorption.
A high potency active B12 supplement containing 500µg of methylcobalamin and 500µg adenosylcobalamin, which are both active forms of this important vitamin.
Sublingual means beneath the tongue and these tablets will dissolve in the mouth allowing oral absorption

Methylcobalamin is the active form used in the methylation cycle. Methylation reactions occur in every cell in the body – there are more than a billion per second

Adenosylcobalamin is the active form that is used in the mitochondria (which are the energy power houses of cells)

Vegan and vegetarian diets can be low in B12

Other people at risk of low B12 include those with digestive conditions that lead to malabsorption; low stomach acid (e.g. due to long-term antacid medication, proton pump inhibitors, H2 blockers, ageing or zinc deficiency); surgery where nitrous oxide has been used as an anaesthetic; and other prescription medications which impair B12 absorption (e.g. metformin, colchicine, neomycin and others)
Vitamin B12 contributes to normal:
energy-yielding metabolism

functioning of the nervous system

homocysteine metabolism

psychological function

red blood cell formation

immune system function
Vitamin B12 contributes to the reduction of tiredness and fatigue
Vitamin B12 has a role in the process of cell division
Place one tablet daily under the tongue until it is dissolved completely. Take as a food supplement or as directed by a practitioner. Do not exceed the recommended daily intake. This product should not be used as a substitute for a varied diet.
If you have recently had coronary stent surgery do not take except under medical advice
Data sheet
concentration du produit

1000 µg (500 µg each)

Contenance

60 sublingual tablets

Ingrédients

Vitamin B12 (as methylcobalamin and adenosylcobalamin), dextrose, microcrystalline cellulose, stearic acid.

Headphone

Cytoplan

DLUO

Février 2023
Reviews
(0)
No customer reviews for the moment.
Only registered user can add review.
Login
Customers who bought this product also bought: