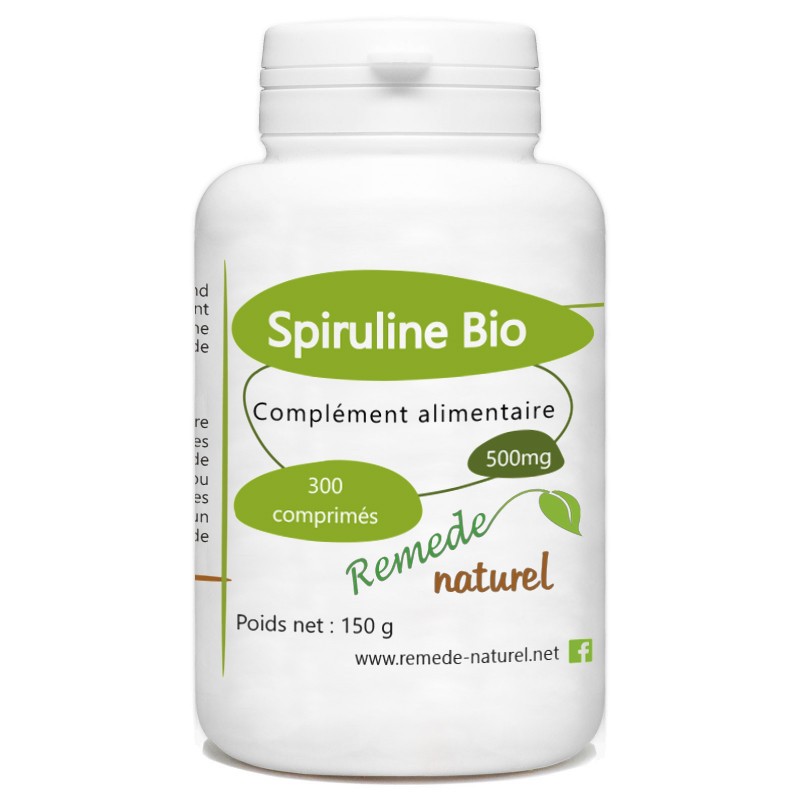  
Organic Spirulina
Tax included
Delivery: 3 to 15 days for Europe
Algae rich in protein, vitamins, iron and other minerals. Our spirulina is a partner of the Espoir d'Enfants association: each jar purchased = a donation made!
It is a microscopic freshwater algae from the cyanobacteria family that appeared 3 billion years ago. It grows naturally in the warm waters of lakes in Chad, Mexico, India. It is also cultivated in the exagon and other countries. It is said to be a superfood because it feeds on the micronutrients from its culture medium. Composed of trace elements, vegetable proteins and other nutritive elements able to bring to the body interesting benefits.
For all those concerned with regaining energy and vitality, meeting certain nutritional needs, athletes, children, the elderly, vegetarians, but also for pregnant women with iron deficiency since spirulina is naturally rich in iron which assimilates better than reconstituted iron.
Usage tips :
Take 1 to 2 tablets per day with a large glass of water during meals and as part of a balanced diet. Warning ! Intense green coloring of food! Always start with a low dosage of 1 gr per day then gradually increase to arrive at the dosage that suits you.
Precautions for use :
. Do not exceed the recommended daily dose. 
. Keep out of reach of children and animals.
. Keep away from heat and humidity.
. This product is a food supplement which should not replace a varied and balanced diet.
. As with any nutritional supplement, consult a healthcare practitioner prior to consumption if you are pregnant, breastfeeding or if you have a health problem.
The Espoir d'Enfants association:
Espoirs d'Enfants is an international solidarity NGO specializing in the development of children, in order to help them grow and develop better. Created at the end of 2011, Espoirs d'Enfants is currently present in Benin, Madagascar, India and Colombia. Its mission is to help the poorest children on the planet to grow better and build themselves up.
Data sheet
concentration du produit

500mg

Contenance

200 tablets

Ingrédients

Spirulina

Weight

150 g

Certificate

BIO
Reviews
(1)
B Mélanie




sept. 6, 2017




Un bon complément

Je prend de la spiruline depuis 4 ans, étant très fatiguée par mon rythme d'étudiante, la spiruline m'a permis de me booster et de tenir le coup. Aujourd'hui je continue à en prendre pour compenser mon régime alimentaire, ne mangeant pas de viande et ne compensant pas, la spiruline me permet de n'avoir aucune carence!
Only registered user can add review.
Login
Customers who bought this product also bought: