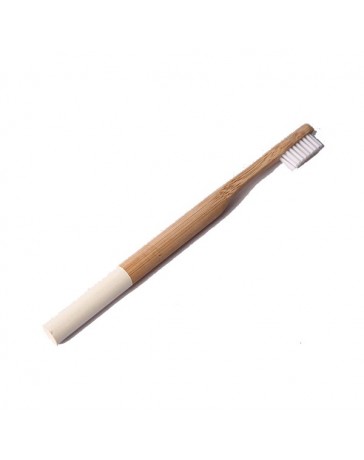  
Bamboo toothbrush
Tax included
Delivery: 3 to 15 days for Europe
Say goodbye to plastic with our bamboo toothbrushes!
The toothbrush, essential tool of our bath, generally has a defect: its plastic material!
First, it is pastic that we put in our mouth several times a day, and this every day ...
Secondo, it's a pure waste. Indeed, it is advisable to change your toothbrush about every three months. And what becomes of our old toothbrushes? Towards garbage cans, they end up incinerated, buried or in nature ... For our health and that of our planet, there is an alternative: the bamboo toothbrush!
Why bamboo ?
Bamboo is a plant that grows and renews itself very quickly. It is found in abundance in China. It has the advantage of containing anti-microbial agents and therefore does not have the utility of adding chemicals to its culture (pesticides or fertilizers). Bamboo is very well known for being acclaimed by pandas, but there is one variety they don't eat: Moso. It is this variety of bamboo that is used to make our toothbrushes!

What does it change ?
For our health, these toothbrushes are devoid of plastic or other potentially harmful components. The bristles are level 4 nylon and BPA free. For the planet, the bamboo toothbrush is organic and therefore biodegradable, it can be thrown away with compost, burnt in the chimney, or be recycled for various uses (vegetable patch, DIY for children, etc.). Your bamboo toothbrush is delivered to you in its recyclable box.
Maintenance tips :
. Rinse your toothbrush thoroughly after each use and allow it to air dry.
. Avoid placing it in a glass / beaker where water could damage it.
. Change your toothbrush about every three months.
. The brush head can be broken and thrown away with household waste, while the handle can be compounded, burnt or thrown away with bio-waste.
Advantages :           
       Ecological :
. made from sustainable resources
. respectful of the environment
. 96% biodegradable.           
       Safe :
. natural materials
. medium flexibility
. pleasant use           
       Aesthetics :
. sober
. natural
. possibility to write your name on the handle.

Reviews
(1)
B Mélanie




févr. 1, 2019




Super !

Ravie de cette brosse à dents! Un peu surprise au début par le bois, mais très vite habitué! Elle ne me fait pas mal aux gencives contrairement aux classiques en plastique et le bois ne s'abime pas (après chaque brossage je la rince, secoue et passe juste la serviette sur le dos de la brosse). Je ne retourne pas aux brosses en plastique!
Only registered user can add review.
Login
Customers who bought this product also bought: