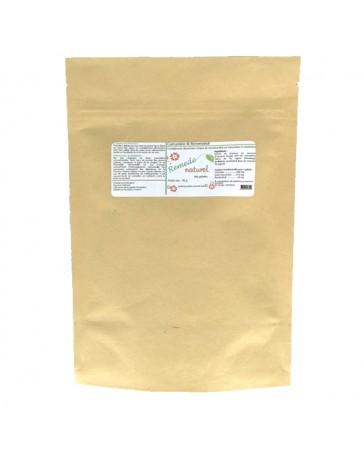  
Curcumin & Resveratrol
Tax included
Delivery: 3 to 15 days for Europe
90, 180 or 450 Capsules de 300 mg Curcumin with 30 mg Resveratrol.
Remede Naturel have combined Curcumin with Resveratrol to produce a natural health formula which may help to prevent or solve numerous problems including aging. Now in Pullulan Capsules.
CURCUMIN & RESVERATROL.
Is this the most potent way to assimilate Curcumin. There is none better – naturally.
In recent times, many companies have spent a lot of time and money taking out Patents to make claims inferring that their product is X or Y times better than pure Curcumin by adding other products, often chemical or toxic. They could have saved all that time and effort by simply researching what Mother Nature already had that is significantly better than any man made, chemical concoctions; that is the coencapsulation of Curcumin with Resveratrol. Also to reduce the possible inclusion of unwanted ingredients, Remede Naturel now uses Pullulan capsules. These are made entirely from tapioca that is guaranteed non GM. 
There has been some research into what can make Curcumin or Resveratrol more bio available to the body. Of course, particle size is important.  Less than 100 microns is classed as "Ultrafine"; our Curcumin and Resveratrol particles are much finer, which means they are freely dispersible in water, thus better absorbed by the body.  The absorption of our Curcumin with Resveratrol may be believed to be the highest possible, naturally. 
Curcumin is produced by the distillation of the turmeric root.  On average, depending on the root source, it requires 25 kgs of best quality turmeric to make 1 kilogramme of Curcumin. Proper unadulterated Curcumin therefor, is not cheap. Many so called Curcumin products are in fact only turmeric, which means that they are far weaker. Equally, almost all suppliers quote the data for pure Curcumin even when using only turmeric; they are not factually wrong in this as there is a tiny amount of Curcumin present, less than 6% at best. Ethically, however, this practice cannot be condoned. There is much talk of nanoparticles and absorption of Curcumin. If correctly milled, the particle size – nanoparticles – should be less than 100 microns; our Curcumin is classed as "Ultrafine". Also the Curcumin with Resveratrol from Remede Naturel is well within the "Ultrafine" classification. Among the many reports being published, Curcumin is being shown as possibly a strong stimulant against brain aging, including benefitting towards Alzheimer's and Parkinson's Diseases.
Resveratrolis found in red grapes, but it is also found in peanuts and some berries. Recent research has shown that Resveratrol may have significant properties in the fight against aging.  Resveratrol is one of a group of compounds called polyphenols. Resveratrol is believed to act as an antioxidant, that may help to protect the body against damage that can put us at higher risk from things that are considered to be terminal. 
Curcumin with Resveratrol. When these two powerful mediums are combined, it is believed that their joined effects may be shown to be considerably more beneficial than each on its own. Both may have anti cancer potential. Both may have anti aging capacity. Both may protect against a plethora of diseases. Both may help the healing process. Putting all this together may show that their combined long term beneficial effects far exceed that of any other combination, man made or natural.  Some data suggest(s) that delivering these compounds in combination may improve the acute bioavailability of Curcumin and Resveratrol compared to supplementation with single compounds, allowing for lower overall doses and simpler treatment protocols using combination therapies. **** 
The addition of Resveratrol to good Curcumin may genuinely offer significant advantages which are as yet not studied enough. Claims of any patented product being X times better than Curcumin are patently false. Mixing Resveratrol with Curcumin, may make an extremely powerful aid to our wellbeing, in excess of any other cocoction.
The coencapsulation of these two natural products with rice flour in Pullulan Capsules may ensure a complete benefit to produce 400% better results than any other combination.  And there are an increasing number of clinical papers to confirm this. This coencapsulation is cited as possibly being effective against
Alzheimer's Disease,
Cognitive Disorders,
Obesity,
Bone health,
Neuroinflammation,
Cancers, including Triple Negative Breast Cancer,
Diabetes,
Along with all the benefits of the individual ingredients. 
In short, Curcumin with Resveratrol is possibly being shown to be the best way of staying in good shape for all ages. 
Pullulan Capsules; what are they? Made from a dry powder which is white in color, tasteless, odorless, nontoxic, nonmutagenic, noncarcinogenic, biodegradable, and edible. It is classed as a food additive, E1204.
Some References that actually pertain to the subject. (We note this as some web sites use non related links.) 
*Kumar et al., 2012; Ogzhan and Yangilar, 2013.
https://www.ncbi.nlm.nih.gov/pubmed/19927272
https://www.ncbi.nlm.nih.gov/pubmed/27649135
https://www.ncbi.nlm.nih.gov/pmc/articles/PMC4875984/
https://www.ncbi.nlm.nih.gov/pubmed/26212257
https://www.ncbi.nlm.nih.gov/pubmed/25632966
https://www.sciencedirect.com/science/S093964111400126X
http://drflannery.com/combined-resveratrol-and-curcumin-for-autoimmune-and-inflammatory-disorders-2/
**** https://restorativemedicine.org/journal/combination-effects-of-quercetin-resveratrol-and-curcumin-on-in-vitro-intestinal-absorption/
https://www.ncbi.nlm.nih.gov/pubmed/18662800
INGREDIENTS:
300 mg 100% Pure Curcumin, with 5% Curcuminoids.
30 mg 100% Pure Resveratrol
Non GM Rice Flour - trace.
Pulullan Capsule.
Suggested intake:
1 or 2 capsules per day for prevention.
Please contact us for further information regarding other requirements.
Capsules de 300 mg Curcumin/30 mg Resveratrol.
Pullulan Capsules.
Precautions for use:
- Do not exceed the recommended daily intake.
- Not recommended for young children, people that use anti-clotting medication and pregnant or breastfeeding ladies.
- This product is a food supplement: it cannot replace a varied and balanced diet.
- Keep away from young children.
- Store away from light, heat and moisture.
- As with all food supplements, consult a health professional before use if you are pregnant, breastfeeding or have a health problem.
This information is but a taste of the potential of the combination of Curcumin with Resveratrol. For further assistance, please email info@remede-naturel.net.
CAUTION! CURCUMIN STAINS! THE ENCAPSULATION PROCESS IS INTRICATE AND THERE CAN BE POWDER RESIDUES ON THE CAPSULES. PLEASE HANDLE WITH CARE AS YOU MAY STAIN YOUR SKIN OR CLOTHING.
Data sheet
concentration du produit

330 mg

Contenance

90, 180 or 450 capsules

Ingrédients

Turmeric rhizome extract (Curcuma longa) titrated in curcumin, rice flour, coating agent (pullulan), resveratrol (from Japanese knotweed)

Headphone

Remède Naturel
Specific References
EAN13

0669014743749
Reviews
(0)
No customer reviews for the moment.
Only registered user can add review.
Login
Customers who bought this product also bought: