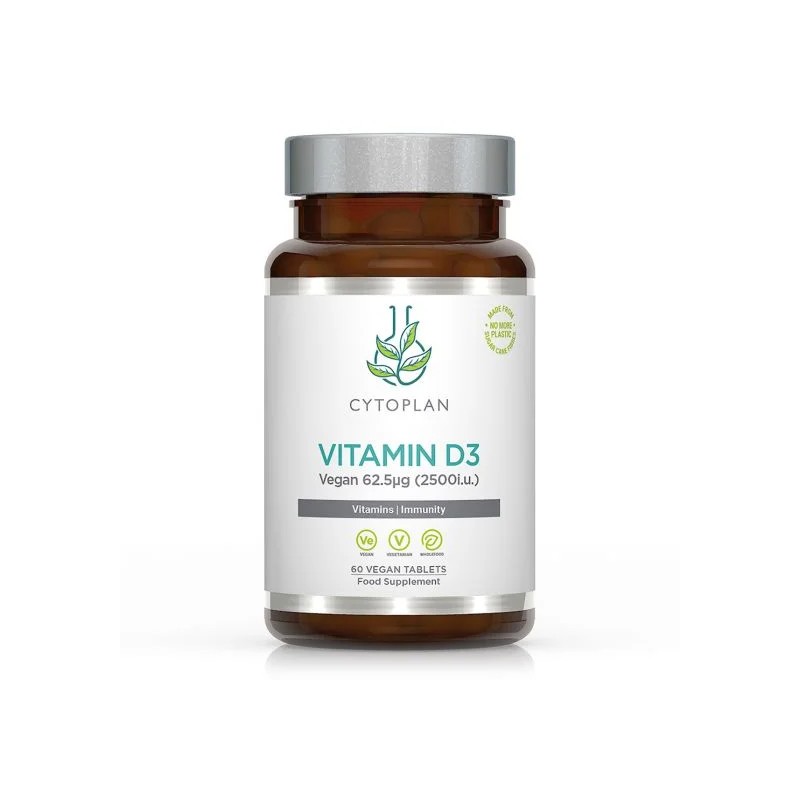  
Vitamin D3
Tax included
Delivery: 3 to 15 days for Europe
A Wholefood supplement from lichen ideal for vegetarians and vegans. One tablet provides 62.5µg (2500i.u.) of vitamin D3 (cholecalciferol) at 1250% of the NRV. Vitamin D3 is the most bioavailable form of this nutrient. Vitamin D has many roles in the body including contributing to the normal function of the immune system, the absorption of calcium, and maintenance of bones and teeth.
Our Wholefood Vitamin D3 supplement from lichen is ideal for vegetarians and vegans. Many supplements use animal sources of vitamin D3 (e.g. sheep's wool), however Cytoplan Wholefood Vitamin D3 comprises a natural plant base of lichen.
A vegan, Wholefood plant base from vitamin D3-rich lichen extract providing 62.5µg (2,500iu) of vitamin D per tablet

Vitamin D is frequently referred to as the Sunshine Vitamin" as sunlight is necessary for the synthesis of this vitamin (which is produced underneath the skin following exposure to sunlight)

Those at particular risk for vitamin D deficiency are the elderly (65 years+), those who rarely get outdoors (lack of sunshine) and people with dark skin. (Children under five are also at risk and for this age group we have a liquid vitamin D3 product – code 3323)

Please note this supplement contains 62.5µg (2500iu) of vitamin D per tablet. If taking other supplements containing vitamin D, please check your total daily intake. If it is 125µg (5000iu) or more per day, for more than two to four months, you should have your vitamin D levels checked regularly. An adequate blood level is considered to be above 50nmol/litre; the scientific literature suggests that a higher level than this is optimal. However, levels above 250nmol/litre are not advised and in this case, measures should be taken to lower levels. Please note some laboratories use different units i.e. ng/ml rather than nmol/litre quoted here. In this case an adequate blood level is considered to be 20ng/ml (again the optimal range is higher than this). For more information on vitamin D you may be interested in www.grassrootshealth.net/
Vitamin D contributes to:
the absorption and utilisation of calcium and phosphorus

normal blood calcium levels

the maintenance of bones and teeth

the maintenance of normal muscle function

the normal function of the immune system
Vitamin D has a role in the process of cell division
Vitamin D is needed for normal growth and development of bone in children
Vitamin D helps to reduce the risk of falling associated with postural instability and muscle weakness. Falling is a risk factor for bone fractures among men and women 60 years of age and older
1 tablet daily, or take as directed by a practitioner.
Data sheet
concentration du produit

2 500 iu

Contenance

60 tablets

Ingrédients

Lichen complex (including maltodextrin, corn starch, fractionated coconut oil, sucrose, silicon dioxide, d-alpha tocopherol, ascorbyl palmitate providing vegan vitamin D3 (cholecalciferol); sorbitol; vegetable cellulose (tablet coating)

Headphone

Cytoplan

DLUO

août 2021
Reviews
(0)
No customer reviews for the moment.
Only registered user can add review.
Login
Customers who bought this product also bought: