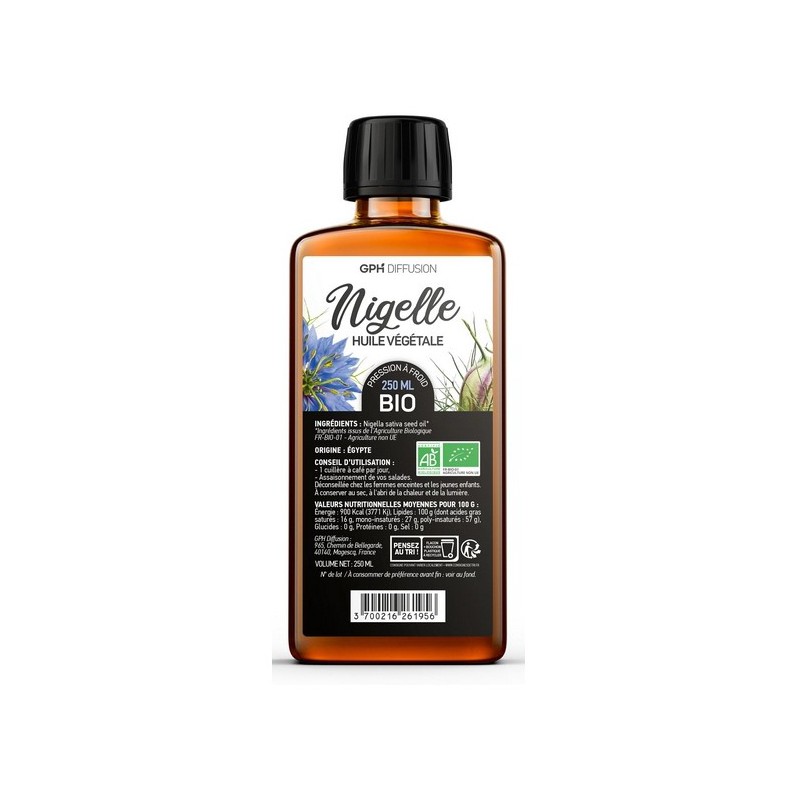  
Organic Nigella vegetable oil
Tax included
Delivery: 3 to 15 days for Europe
Nigella seeds have long been consumed in Egypt and around the Mediterranean, where they originated. Nigella sativa, nicknamed black cumin, also produces vegetable oil which is very useful in cosmetics.
Whether in food or cosmetics, black cumin oil is generally diluted. It is indeed a vegetable oil that requires a little preparation. For internal use, you can mix it with olive oil or hazelnut oil in a proportion between 25 and 50%. For external use, you can make a 50/50 blend of vegetable oils.
The amber color of black cumin oil comes from the small black seeds that have been pressed to obtain a soft and thick oil. Our organic nigella oil is a pure, cold-pressed oil. A first cold pressing allows the oil to keep most of its nutritional assets intact. An essential point for its use in the kitchen but also in cosmetics!
How to use black cumin oil on the skin?
Used since the time of the Pharaohs, black cumin oil is still used today as a beauty treatment in the Maghreb, India and the Middle East. It is a wonderful oil that has a typical smell, reminiscent of the scent of cumin. It can be used on the body and face, ideally mixed with another vegetable oil.
Mix two tablespoons of black cumin oil and two tablespoons of sweet almond oil. Then use this mixture for your massages. You can massage your legs, your back or even your arms. It is an ideal blend for dry skin. For daily care, massage your face after washing it with clear water.
How to use black cumin oil on the hair?
Black cumin oil is not only edible. It can be used on your beautiful hair to sublimate it. For a complete hair mask, mix two tablespoons of cumin oil with two tablespoons of avocado oil, one teaspoon of honey and one egg. Apply to the scalp and ends then leave on for half an hour before shampooing.
Tips
Nigella oil, also called black cumin, is composed of unsaturated fatty acid (50-65% linoleic acid and 18-30% oleic acid).
Our Nigella has a strong, spicy taste and smell. It is recommended not to cook it.
Use is not recommended for pregnant women and young children.
Data sheet
Contenance

250ml

Ingrédients

Nigella sativa seed oil from Organic Farming

Headphone
Reviews
(0)
No customer reviews for the moment.
Only registered user can add review.
Login