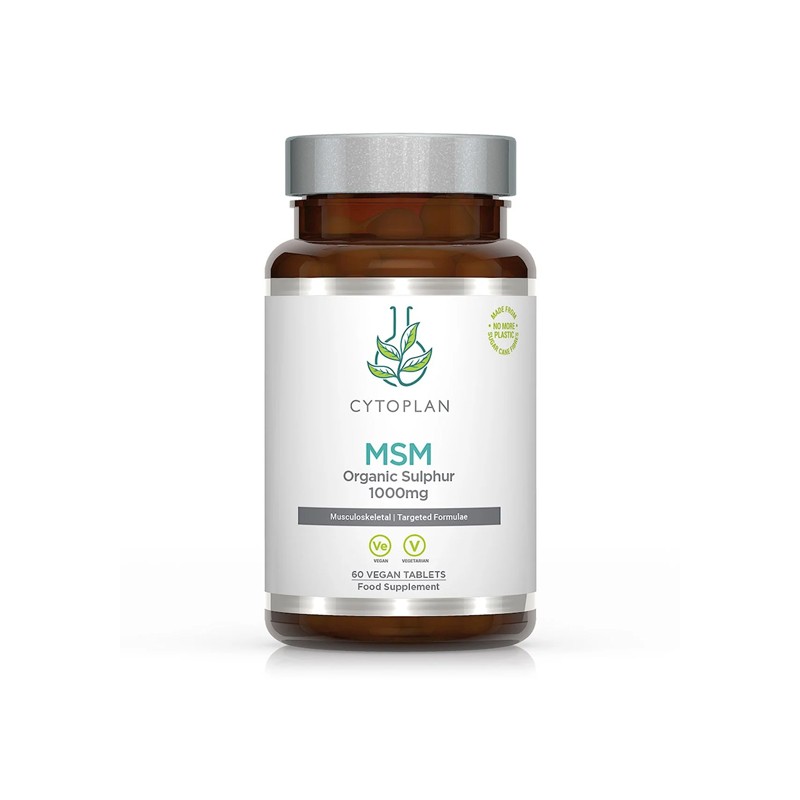  
MSM - Organic sulphur
Tax included
Delivery: 3 to 15 days for Europe
MSM (Organic sulphur) is vital in the formation of keratin collagen and elastin - which give flexibility, tone and strength to muscles, bones and joints, internal membranes, plus skin, hair and nails. Each of our vegan tablets comprises 1000mg of MSM; this is the 60 tablet sized supplement
MSM (Organic sulphur) is vital in the formation of keratin, collagen and elastin (disulphide bonds) - which give flexibility, tone and strength to muscles, bones, joints, internal membranes, skin, hair and nails

The human body contains a relatively large amount of sulphur. Our skin, hair and nails all have a high sulphur content

This supplement comprises tablets of MSM; with 1000mg of MSM (Methy Sulphonyl Methane) per tablet

This MSM supplement is suitable for Men, Women and the Elderly

This supplement is Yeast free and suitable for vegetarians, vegans and for people with Candida and Yeast sensitivities

Free from Genetically Modified Substances
Sulphur Supplementation

Nutritionists previously thought it was unlikely that we could become deficient in sulphur levels. During the last few decades, however, a number of factors have taken their toll:
Over-farming of land, leading to deficiencies in the food chain

Long-term storage of foods

More processed and preserved foods

A large increase in the use of fast foods and pre-prepared foods
As a consequence few people eat enough raw, sulphur-containing foods on a daily basis. Sulphur amino acids should also be available from complex proteins in our normal diet. However, some nutritionists now suggest that taking a sulphur supplement is beneficial.
MSM is taken as a dietary supplement to restore organic sulphur levels so the body has the correct building blocks to repair and restore normal functions wherever possible.
Dietary Sources of MSM
Dietary sources of MSM include meat, fish, poultry, cabbage, broccoli, Brussels sprouts, garlic, onions, grains, beans, legumes and unpasteurised milk (approx 2 to 6 parts per million), and coffee (approx 1.5 parts per million).
Suggested Intake :
1-3 MSM tablets daily, or take as directed by a practitioner.
Data sheet
concentration du produit

1 000 mg

Contenance

60 or 180 tablets

Ingrédients

Methyl sulphonyl methane, microcrystalline cellulose, silicon dioxide.

Headphone

Cytoplan
Specific References
EAN13

5060202181346
Reviews
(1)
Mme C. C.




avril 9, 2018




Super

Je voulais vous dire toute ma reconnaissance de m'avoir aidé à trouver ce produit en comprimés. J'en utilisais dans mes cosmétiques maisons mais c'est bien plus efficace en interne ! Un Grand Merci.
Only registered user can add review.
Login
Customers who bought this product also bought: