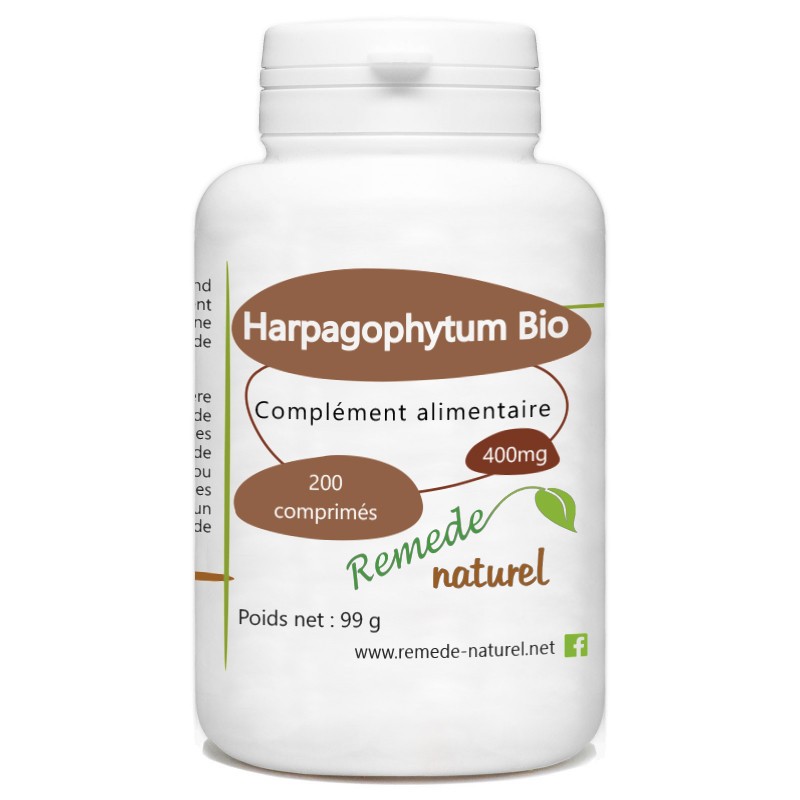  
BIO Harpagophytum
Tax included
Delivery: 3 to 15 days for Europe
In 330mg capsules or 400mg tablets.
Harpagophytum, devil's claw or devil's claw, this plant used for centuries is much appreciated in herbal medicine for the nutritional qualities offered by its roots which go deep into the earth to find the nutrients it needs.
What is harpagophytum ?
The harpagophytum (Harpagophytum procumbens by its Latin name) is more commonly called the devil's claw. In recent years, harpagophytum has become a common ingredient in herbal products, particularly in food supplements. Harpagophytum is a perennial herb native to the semi-desert regions of South Africa. Its main root sinks deep into the ground and its secondary roots are large bulbous tubers and they are the ones that are used for food supplements. They may their strength in the earth. Being a wild plant, the question of the survival of the species arises because its exploitation is intensifying.
Capsules dosed at 330 mg of harpagophytum root powder or tablets dosed at 400 mg.
Benefits :
The effects of Harpagophytum have been the subject of relatively good methodological clinical studies. The European Medicines Agency recognizes the use of harpagophytum. The World Health Organization recognizes "as clinically proven the use of harpagophytum". Commission E of the Ministry of Health admits its use in certain disorders. You can find more information about this plant on the vidal.
Usage tips :
Take 1 capsule 3 times a day with a large glass of water during meals as needed. Exists in the form of Harpagophytum herbal tea.
Precautions for use :
. Do not exceed the recommended dose
. Keep out of the reach of young children
. Not recommended for people who suffer from gastroesophageal reflux or stomach ulcer or duodenum . Talk to your doctor if you have gallstones
. Not recommended for people with cardiovascular disease
. This product is a food supplement which should not replace a varied and balanced diet . Should not be used in people under 18 years of age.
Data sheet
Contenance

200 capsules of 330 mg or 200 tablets of 400 mg
Specific References
ean13

3700216208128
Reviews
(1)
Mme FP




févr. 19, 2018




indispensable à ma pharmacie

Le 15 août est un jour gravé dans ma mémoire: c'est le jour où je vous ai rencontré alors que ma fibromyalgie n'avait pas été aussi forte depuis des mois, probablement à cause de l'inefficacité des médicaments ou à leurs effets secondaires. J'avais déjà décidé d'essayer la médecine alternative mais je n'avais rien trouvé avant de vous rencontrer. Votre curcumine associée à la serrapeptase 120000 ui, la griffe du diable et la passiflora incarnata font maintenant partie de ma pharmacie".
Only registered user can add review.
Login
Customers who bought this product also bought: