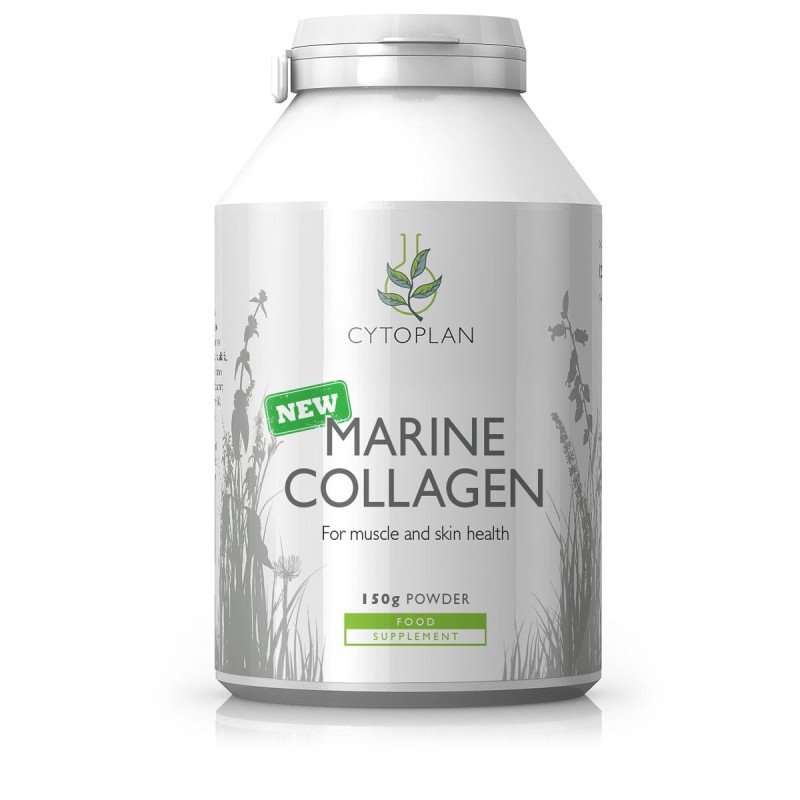  
Marine collagen powder
Tax included
Delivery: 1 to 6 weeks
Cytoplan Marine Collagen is a unique formulation of bioactive collagen peptide. We use naturally-captured Peptan® type 1 sustainable marine collagen peptides derived from whitefish, which are odorless and tasteless. Marine collagen can be used for the health of all connective tissues.
Collagen is the most abundant protein in the body and is one of the main building blocks of bones, skin, tendons, muscles, and ligaments.
Marine collagen can be used to support the structure, elasticity, texture, strength and resilience of the skin as well as muscle health.
Cytoplan's unique bioactive collagen peptide formulation is made from durable Peptan® type 1 marine collagen peptides sourced from whitefish. Processed in a state-of-the-art facility in France where fish skins are converted into high quality collagen peptides.
From a sustainable source and certified by the Marine Stewardship Council.
Manufactured to the highest QESH standards (Quality, Environment, Safety, Health) for consistency and reliability.
Suggested Intake :
Take 5g per day. Can be easily dissolved in cold or hot water. Odorless and tasteless.
Nutritional Intake :
5 grams provide on average :
Active Nutrient
Strength
%NRV*

+NRV = Nutritional Reference Value
* Indicates no NRV

Typical amino acid range percentage:
Alanine
7.9%
*
Arginine
9.5%
*
Aspartic Acid
6.4%
*
Glutamic Acid
10.2%
*
Glycine
21.8%
*
Histidine
1.6%
*
Hydroxylysine
0.8%
*
Hydroxyproline
7.5%
*
Isoleucine
1.3%
*
Leucine
2.7%
*
Lysine
3.7%
*
Methionine
1.9%
*
Phenylalanine
2.0%
*
Proline
11.1%
*
Serine
6%
*
Threonine
2.8%
*
Tyrosine
0.7%
*
Valine
2.2%
*
Precautions for use :
. Do not exceed the recommended daily dose.
. Not recommended for people allergic to fish.
. This product is a food supplement which should not replace a varied and balanced diet.
. Keep out of the reach of young children.
. Store away from light, heat and humidity.
. As with any nutritional supplement, consult a healthcare practitioner before consuming if you have any medical condition, are pregnant or breastfeeding.
Data sheet
Contenance

150 gr

Ingrédients

Peptan® type 1 collagen (hydrolysed fish collagen peptides).

Headphone

Cytoplan
Reviews
(0)
No customer reviews for the moment.
Only registered user can add review.
Login
Customers who bought this product also bought: