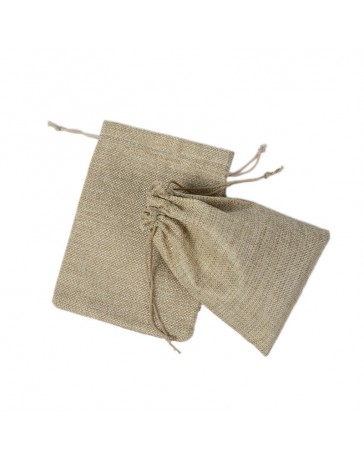  
Burlap bulk bag
Tax included
Delivery: 3 to 15 days for Europe
Reduce your waste by opting for these reusable burlap bulk bags!
Jute bulk bags are the ideal alternative to the many plastic and paper bags that we use far too often! Bulk is more and more common, arriving in supermarkets and allowing us to buy the necessary quantities without any waste if we decide, why without depriving? Likewise, more and more large surfaces and small businesses allow us to obtain our own containers to weigh our fruits and vegetables, so it is time to take another step to reduce waste!
What are the advantages of bulk bags?
. They are durable and resistant: a few bags will suffice you for many years.
. They are practical: light, easily foldable, they can be stored anywhere to be there when you need them.
. They are beautiful: because by being responsible and using natural materials, we realize that nature makes beautiful materials.
. They are responsible: from the culture of the jute to its end of life, this way is undoubtedly the most ecological.
Why burlap?
. Jute is very strong, jute bags can withstand a heavy load, even potatoes.
. The jute is natural, veggie and the weaving allows the passage of air. Odorless, the bags can join the organic waste in the composting bin at the end of their life.
. The culture of jute and its manufacturing process is more ecological than other textiles: it participates in soil regeneration, requires little or no fertilizers / pesticides
. All parts of the plant can be used.
. Jute has been used for centuries in agriculture!
Use :
There are several sizes of canvas bag. You will find :
. Small bags of about 15 x 20 cm: can contain up to 500g of pasta, rice, cereals, legumes ...
. Large bags of about 20 x 30 cm: can contain up to 2 kg of pasta, rice, cereals, legumes, fruits, vegetables ...
Precautions to take to preserve your bags :
. Jute is sensitive to friction and heat: avoid the washing machine!
. To wash your bags: soak them for 5 to 10 minutes in cold water and hang out your bags to dry them. Do not twist them to wring out, and do not expose them to direct sunlight.
. In case of unpleasant odor: sprinkle with baking soda . In case of stains: soak and rub gently with Marseille soap.
. It is possible to use white vinegar which disinfects, deodorizes and detaches by soaking in a basin with 1 dose of vinegar for 4 doses of water.
Data sheet
Ingrédients

Burlap, cotton
Reviews
(0)
No customer reviews for the moment.
Only registered user can add review.
Login
Customers who bought this product also bought: