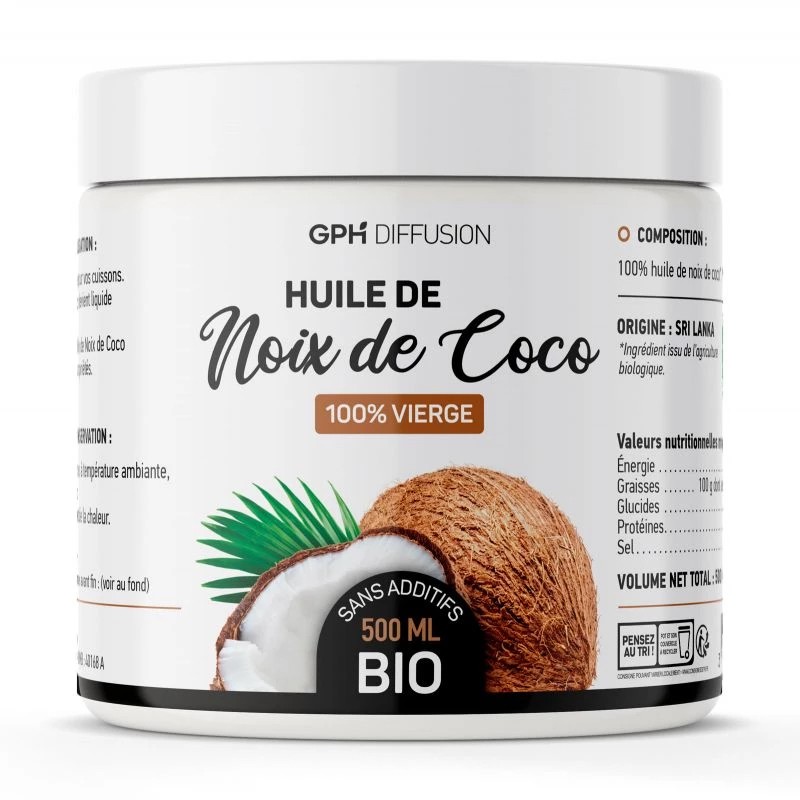  
Organic Coconut Oil
Tax included
Delivery: 3 to 15 days for Europe
100% virgin organic coconut oil
Coconut oil is made from the flesh of coconuts, a tropical fruit with an intoxicating smell. In reality, the coconut palm is a species of palm named Cocos nucifera. This tree, where should we say this plant because the coconut palm is not really a tree, is native to Asia. It consists of large, impressive palms as well as large, thick-shelled fruits, which grow throughout the year.
The coconut is oval, green in color and hard. Beneath a thick, fibrous layer is the coconut seed, which is called by the same name. Indeed, the seed of the plant can also be called coconut. This one is composed of an edible white flesh. As with most oilseeds, coconut is used in the manufacture of vegetable oil. It is then used in cooking but also in beauty care.
Recommended use :
Raw on toast, for your cooking, on the skin for massage, on the hair..., coconut oil becomes liquid from 25°C. Liquid or solid, Coconut oil retains all its properties.
Can also be used externally on the skin or in making cosmetics.
Storage tips :
After opening: 6 months at room temperature, 2 years in the refrigerator.
Away from light and heat
Data sheet
Contenance

500ml

Ingrédients

100% Organic Coconut Oil, 1st cold pressing

Headphone

GPH
Reviews
(0)
No customer reviews for the moment.
Only registered user can add review.
Login