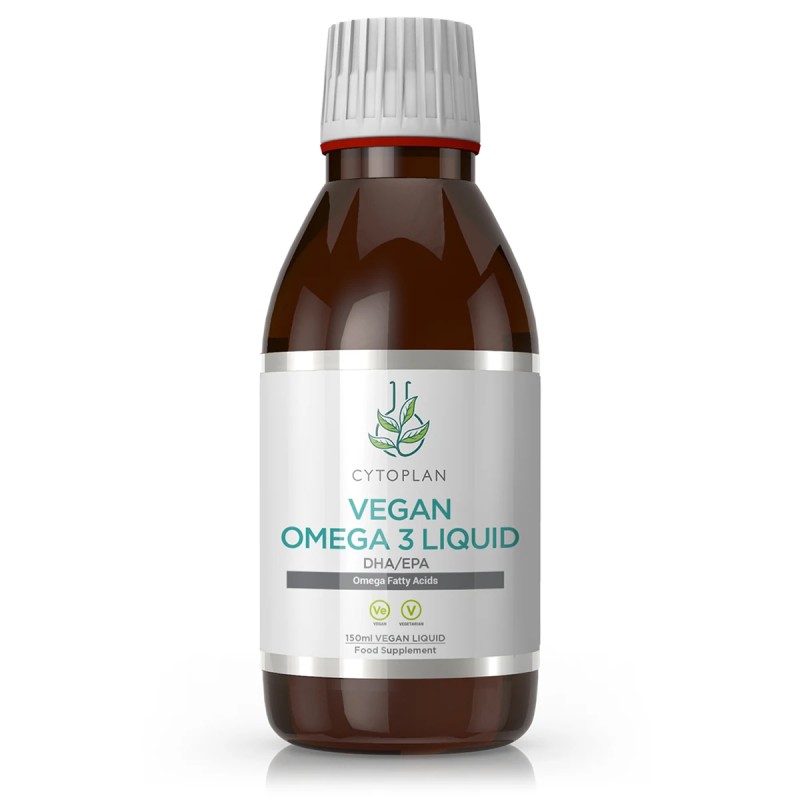  
Vegan Omega 3 Liquid
Tax included
Delivery: 3 to 15 days for Europe
Provides DHA and EPA essential fatty acids derived from plant-based marine algae, in a liquid form for the whole family. Suitable for vegetarians and vegans.
Our Vegan Omega 3 Liquid provides the essential omega-3 fatty acids DHA and EPA which have been derived from vegetable sea algae (Schizochytrium sp.), making this product suitable for vegetarians and vegans.
Tasteless and odorless liquid supplement, which can be taken by the whole family (from 6 months).
Produced from microalgae grown in a controlled environment, eliminating the risk of ocean contamination and pollution, and concerns about sustainability.
One 5ml teaspoon provides 300mg of EPA and 500mg of DHA
DHA is particularly beneficial for brain function and vision. EPA is good for blood pressure and triglyceride levels. Both are equally important for the heart. Essential elements for the body to develop.
Usage tips :
Babies aged 6 months to 1 year = 1 ml per day
Children from 1 to 2 years old = 1.5 ml per day
Children from 3 to 5 years old = 2 ml per day
Children from 6 to 10 years old = 2.5 ml per day
Children over 11 and adults = up to 5 ml per day
Take as a dietary supplement or as directed by a healthcare practitioner, directly by spoon or mixed with yogurt.
Precautions for use :
. Do not exceed the recommended daily dose.
. Avoid in case of liver deficiency. If you are taking anti-thrombotic drugs (eg warfarin or heparin), consult your doctor before taking this product
. This product is a food supplement which should not replace a varied and balanced diet.
. Keep out of reach of young children.
. Store away from light, heat and humidity.
. As with any nutritional supplement, consult a healthcare practitioner prior to consumption if you have a medical condition.
Data sheet
Presentation

glass bottle

Contenance

150 ml

Ingrédients

Schizochytrium sp. from marine algae (providing DHA & EPA), olive oil, vitamin E (as d alpha tocopherol).

Headphone

Cytoplan
Reviews
(0)
No customer reviews for the moment.
Only registered user can add review.
Login
Customers who bought this product also bought: