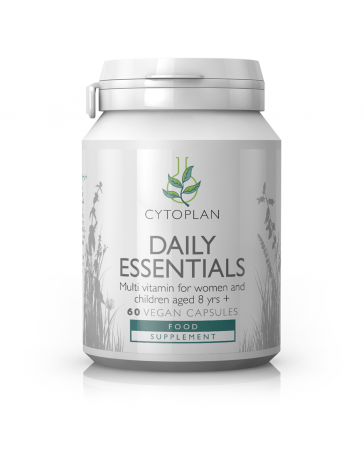  
Daily Essentials [Multi vitamins and minerals]
Tax included
Delivery: 3 to 15 days for Europe
This supplement contains good levels of B complex vitamins, including folic acid, and B12, vitamin D3 and trace elements. Ideal for women and children from 8 years old.
This supplement contains good levels of minerals including selenium (50 µg), copper (0.5 mg) and zinc (3 mg). These trace elements all contribute to the protection of cells against oxidative stress. It also contains 3 mg of iron, 40 µg of chromium, 30 µg of iodine and 25 mg of magnesium per capsule.
Ideal for the good development of children with these capsules of small sizes.
Suggested Intake :
Take 1 capsule per 25kg of body weight per day with a large glass of water.
Nutritional Intake :
1 capsule will provide on average :
+NRV = Nutritional Reference Value
* Indicates no NRV
Vitamin A
250ug/831 i.u
31
Beta Carotene
2mg
*
Vitamin D3
10ug
200
Vitamin E
3mg
25
Vitamin K2
30ug
40
Vitamin B1
6mg
545
Vitamin B2
6mg
428
Niacin
4mg
25
Pantothenic acid (B5)
5mg
83
Vitamin B6
2mg
143
Folic acid as 5-MTHF
50µg
25
Vitamin B12 as methylcobalamin
50µg
2000
Biotin
25µg
50
Vitamin C
50mg
62
Magnesium
25mg
7
Iron
3mg
21
Copper
0.5mg
50
Iodine
30ug
20
Zinc
3mg
30
Selenium
50µg
91
Chromium
40ug
100
PABA
3mg
*
Precautions for use :
. Do not exceed the recommended daily dose.
. This product is a food supplement which should not replace a varied and balanced diet.
. Keep out of the reach of young children.
. Store away from light, heat and humidity.
. As with any nutritional supplement, consult a healthcare practitioner before consuming if you have any medical condition.
Composition :
Vitamin C (as calcium ascorbate), Magnesium (from citrate), Vitamin B1 (thiamin Hcl), Vitamin B2 (riboflavin), Vitamin B5 (as calcium d-pantothenate), Vitamin B3 (as niacinamide), Vitamin B6, Iron (as ferrous fumerate), Zinc (from citrate), Vitamin E (from succinate), Beta Carotene (dunaliella salina), PABA, Copper (as copper sulphate), Vitamin B7 (as d-biotin), Vitamin A (as retinol palmitate), Folic Acid (5-Methyltetrahydrofolate), Vitamin B12 (as methylcobalamin), Selenium (as L-selenomethianine), Chromium (from yeast), Iodine (as potassium iodide), Vitamin K2 (MK-7), Vitamin D3 (cholecalciferol from lichen), HPMC (capsule shell).
Data sheet
Contenance

60 capsules

Headphone

Cytoplan
Reviews
(0)
No customer reviews for the moment.
Only registered user can add review.
Login
Customers who bought this product also bought: