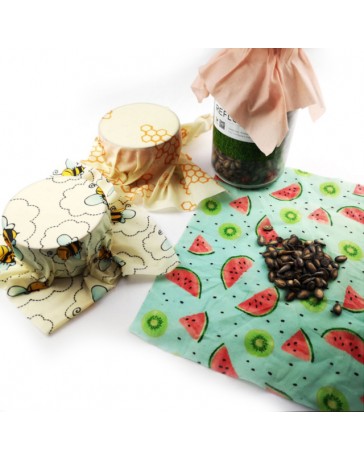  
Bee Wrap
Tax included
Delivery: 3 to 15 days for Europe
Reusable ecological food packaging!
A Bee Wrap is a fabric covered with beeswax.
Natural, reusable and biodegradable, it is the ideal alternative to polluting plastic film in our kitchens.
What are the benefits of Bee Wrap?
. It is thermoformable: the warmth of the hands allows the fabric to be shaped to the desired shape.
. It is odorless: when unpacking, the smell of beeswax will be strong and gradually fade, however, beeswax does not leave any taste or smell on food.
. It is versatile: it can also be used well for covering containers as for directly wrapping food.
. It is washable: it washes loosely with dish soap / soap and cold water.
. It is biodegradable: the bee wrap can be used on average one year continuously! It can then be composted or used as a fire starter.
What is the Bee Wrap made of ?
. The cotton fabric has an insulating power, while being a resistant vegetable fiber.
. Beeswax makes the fabric impermeable to moisture and bacteria.
. Pine resin has anti-bacterial properties.
. Jojoba oil preserves dehydration and ensures good food preservation.
Use :
Use the warmth of your hands to make your Bee Wrap take the desired shape and conform to the shape of your container or food. As it cools, it will regain its rigidity and a slight seal will form to preserve your food. It can be used to wrap cheese, vegetables, bread, fruit, herbs, cakes ... and cover all containers.
Wash the Bee Wrap in cold water and soap, allow to air dry and store the treatment.
Precautions to take to keep your Bee Wrap intact :
. The Bee Wrap is not recommended for storing meat and fish.
. Keep away from any heat source (hot water, microwave, radiator, gas cooker ...)
. Allow to dry in the open air
. Can be used in the freezer, but no more than 2 to 3 weeks.
. When your Bee Wrap becomes thin, flexible and no longer sticky, it is no longer effective. Used regularly and in good conditions, it can last up to a year.
Data sheet
Presentation

3 Bee Wrap

Size

Environ 17x20 cm - 25 x 28 cm - 33 x 35 cm

Ingrédients

GOTS certified cotton, Beeswax, Pine resin, jojoba oil.
Reviews
(0)
No customer reviews for the moment.
Only registered user can add review.
Login
Customers who bought this product also bought: