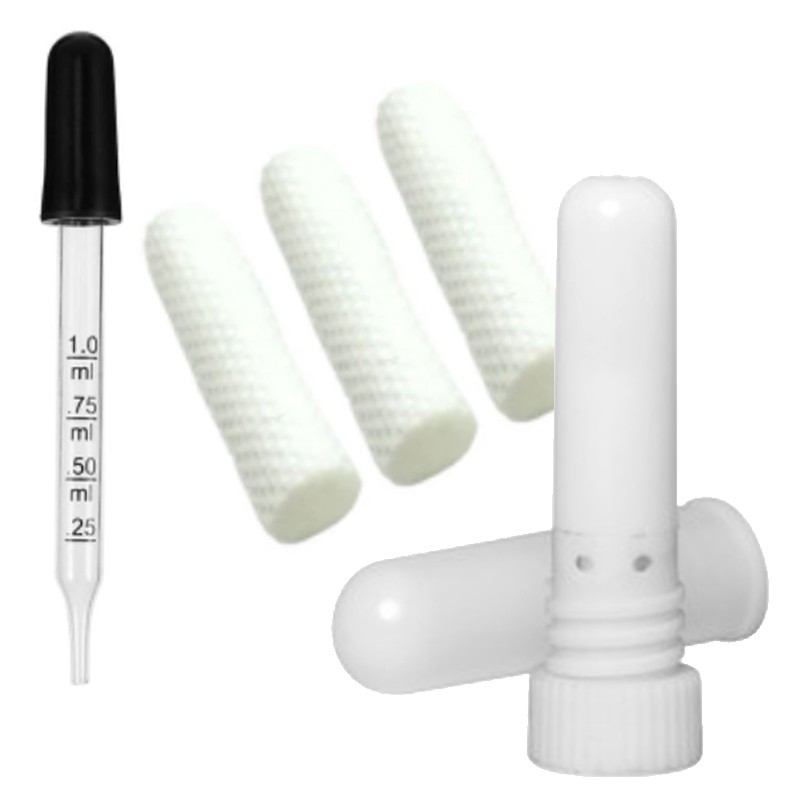  
Inhaler stick pack
 Reusable inhaler stick pack to benefit from your aromatherapy everywhere.
This complete pack allows you long-lasting use. A must in aromatherapy!
The small and discreet stick fits everywhere. Easy to use, the whole family can enjoy it.
Simply place a few drops of oils on the cotton swab using the glass pipette and inhale deeply to benefit from its benefits.
The stick is made up of an inhaler with holes for inhaling the oils and a cap. A cotton swab to soak slips inside. The stick is removable and refillable thanks to the spare cotton rods.
Advice :
Soak the cotton swab in your essential oil or essential oil blend.
Insert the stem into the stick then close the stick from below by clipping.
Then close the stick from the top by screwing the cap.
To reuse the stick, unclip the bottom of the stick, remove the used rod, clean the stick with hot soapy water and a mini bottle brush.
Insert a new soaked rod or re-soaked the previous rod if you keep the same oils.
Data sheet
Presentation

1 stick + 3 cotton swabs + 1 glass pipette
Reviews
(0)
No customer reviews for the moment.
Only registered user can add review.
Login
Customers who bought this product also bought: