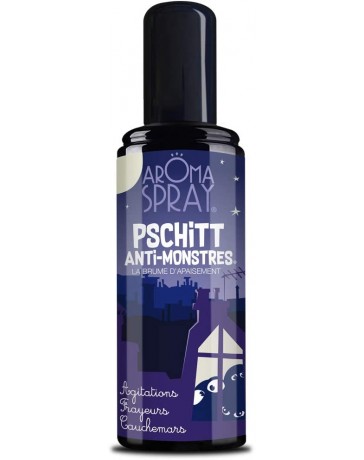  
Anti-monster Pschitt
Tax included
Delivery: 3 to 15 days for Europe
Based on orange blossom floral water and essential oils of chamomile and neroli, this spray helps soothe children subject to difficulty falling asleep linked to fear, nightmares or restlessness. The ideal complement to the evening ritual!
PERFUME THE NIGHTS : kids will love you the anti-monster spray and its delicate soothing scent to ward off monsters and nightmares.
A SOOTHING EVENING RITUAL : based on orange blossom floral water, pschitt allows children to regain confidence. Calm, reassuring and fragrant atmosphere for a gentle ritual with a protective blanket and good communication, name your fears, talk and "shout"!
TO VAPORIZE IN THE BEDROOM : spray in the evening or before a nap in the bedroom, on a pillow or on a blanket.
100% PURE AND NATURAL : Pschitt anti-monsters is based on 100% natural orange blossom floral water and essential oils of chamomile and neroli with relaxing, calming and relaxing properties that will help you sleep better.
RESPECTFUL FOR THE SKIN : our essential oils ripen in a vegetable alcohol obtained from beetroot. Paraben-free, preservative-free & propellant-free, use our fragrances without fear.
Precautions for use :
Do not spray on a flame or an incandescent body, keep away from any flame or source of ignition, do not smoke during or after diffusion, do not breathe the diffusion immediately after spraying, keep out of reach of children. Do not spray into the eyes, on the skin or mucous membranes, do not swallow, do not use for any purpose other than that for which the product is intended. The presence of essential oils may trigger an allergic reaction. Do not use in children under 3 years old, in pregnant or breastfeeding women, in people with allergies, asthma or epilepsy. In case of contact with the skin: wash with plenty of clean water, in case of contact with the eyes: rinse with water for several minutes, remove contact lenses if necessary and continue rinsing, in case of ingestion: consult a doctor promptly and show him the vial.
Data sheet
Contenance

100 ml

Ingrédients

Orange blossom floral water100% natural Essential Oils of Chamomile and Neroli

Headphone

Aromaspray
Reviews
(0)
No customer reviews for the moment.
Only registered user can add review.
Login