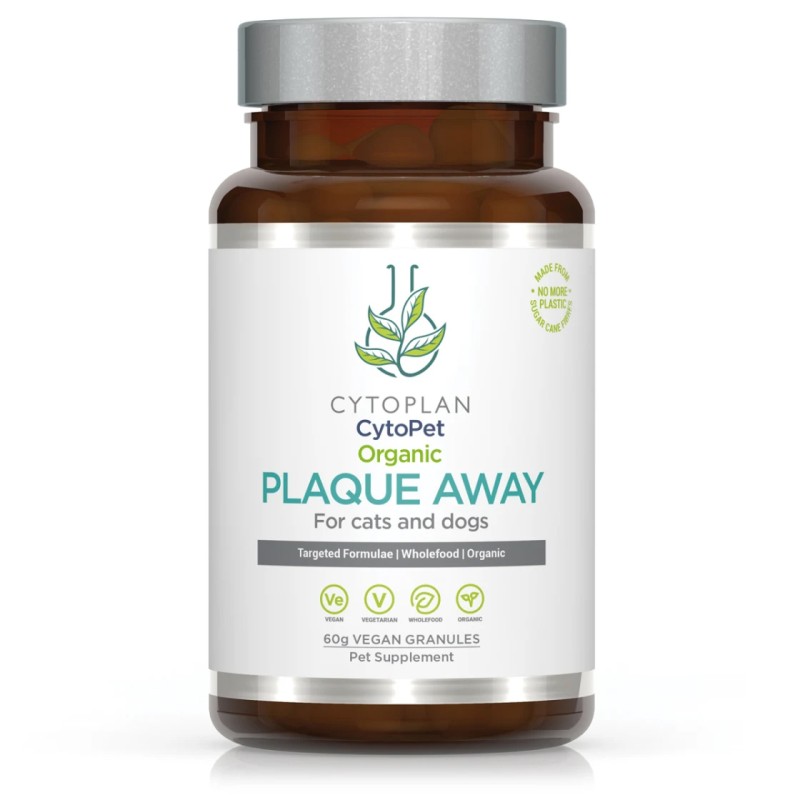  
Plaque Away [ food supplement for dogs and cats ]
Tax included
Delivery: 3 to 15 days for Europe
Natural food intended for daily use to prevent the accumulation of plaque and tartar on the teeth of dogs and cats, thus keeping your pet's mouth clean.
As in humans, plaque bacteria are constantly forming in the mouths of all cats and dogs, with bacterial plaque being one of the main causes of oral disease. Over time, plaque calcifies into tartar and, if left untreated, can lead to bad breath, gum disease, and tooth decay.
Plaque Away targets plaque bacteria inhibiting buildup and helps keep breath clean and fresh.
Plaque away provides organic seaweed 'Seagreens', organic bladderwrack and organic kelp as well as natural phlorotannins. Seaweed is a natural prebiotic helping beneficial bacteria throughout the digestive system, it can also specifically inhibit the buildup of gram-negative bacteria in the mouth. The formula is completed with soluble and insoluble dietary fibers (polysaccharides), 7 minerals and 57 trace elements, omega-3, 6 and 9 fatty acids and vitamins A, B1, B2, B3, B5, B6, B12, C, E, K1, folate and biotin, compensating for the deficit of trace elements and micronutrients in animal feed.
Made from human food grade organic raw materials. Non-allergenic and without flavor enhancers or additives. The level of iodine in this product will not interfere with thyroid function.
Certified organic by the Soil Association.
Simply sprinkle on wet or dry foods.
Toy dogs and kittens (up to 5 kg): 0.5 g - a pinch daily
Small dogs and cats (5-12 kg): up to 1 g - about 1/8 to 1/4 teaspoon per day
Medium-sized dogs (12-22 kg): 1 g - approximately 1/4 teaspoon per day
Large dogs (22-45 kg): 1.5-2 g - about 3/4 teaspoon daily
Very large dogs (over 45 kg): 2 to 3 g - about 1 level teaspoon per day
Analytical constituents for 1 gram :
Protein (4.5%), Fat (1.8%), Fiber (45%), Ash (23%), Moisture (11%).
Precautions for use :
. Plaque Away is to be used in addition to, and not a substitute for, toothbrushing to help remove plaque from your cat's and dog's teeth and keep your pet's mouth clean.
. Do not exceed the recommended daily dose.
. This product is a food supplement which should not replace a varied and balanced diet.
. Keep out of reach of young children.
. Store away from light, heat and humidity.
. As with any nutritional supplement, consult a healthcare practitioner prior to consumption if you have a medical condition or are pregnant.
Data sheet
Contenance

60 g

Ingrédients

Organic Sea greens® native wild seaweeds, Organic Bladderwrack (Fucus vesiculous), Organic Winged Kelp (Alaria esculenta).

Headphone

CytoPet - Cytoplan
Reviews
(0)
No customer reviews for the moment.
Only registered user can add review.
Login