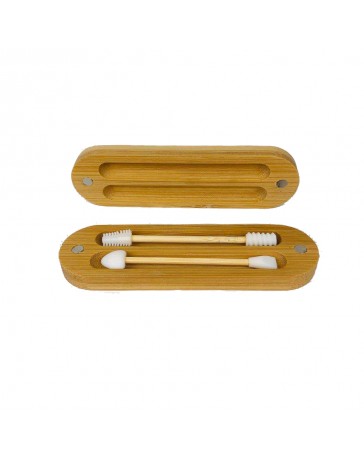  
Bamboo reusable cotton swab
Tax included
Delivery: 3 to 15 days for Europe
Cotton swabs, an essential for our bathrooms. Small and practical, its use is often daily. However, it has one flaw: it is disposable!
Pure waste, the cotton swab is neither good for us nor for the environment: white cotton is multi-treated and although plastic sticks are replaced by cardboard, these small objects are common in nature and our oceans.
For our health and that of our planet, there is an alternative: the reusable cotton swab!
Why a bamboo box?
Bamboo is a plant that grows and renews itself very quickly. It is found in abundance in China. It has the advantage of containing anti-microbial agents and therefore does not have the utility of adding chemicals to its culture (pesticides or fertilizers). Bamboo is widely known to be popular with pandas, but there is one variety they don't eat: Moso. This set allows you to keep your cotton swabs permanently protected from dust and dirt while easily carrying them on the move, or in the handbag for make-up touch-ups.
What does it change ?
For our health, we replace cotton with medical grade silicone. While the cotton swab tends to push much of the secretion into the ear canal, the reusable cotton swab tip helps grip the sebum.
For the planet, no more waste! While traditional cotton swabs take up a lot of manufacturing resources, reusable cotton swabs use less. But above all, while hundreds of cotton swabs are thrown away every day, polluting and requiring more and more resources, the reusable cotton swab will suffice you for years to come.
Maintenance tips :
Your cotton swabs are simply washed with soap and water! Dry them well before replacing them in their bamboo box.
Benefits :

          Ecological:

. designed to be used thousands of times
. respectful of the environment
. recycled cardboard box
. biodegradable bamboo case


          Safe:
. medical grade silicone tips
. pleasant use


          Aesthetic and practical:
. sober
. use for the ears, but also make-up, for the whole family.
Data sheet
Contenance

2 cotton swabs

Ingrédients

medical silicone, bamboo
Reviews
(0)
No customer reviews for the moment.
Only registered user can add review.
Login
Customers who bought this product also bought: