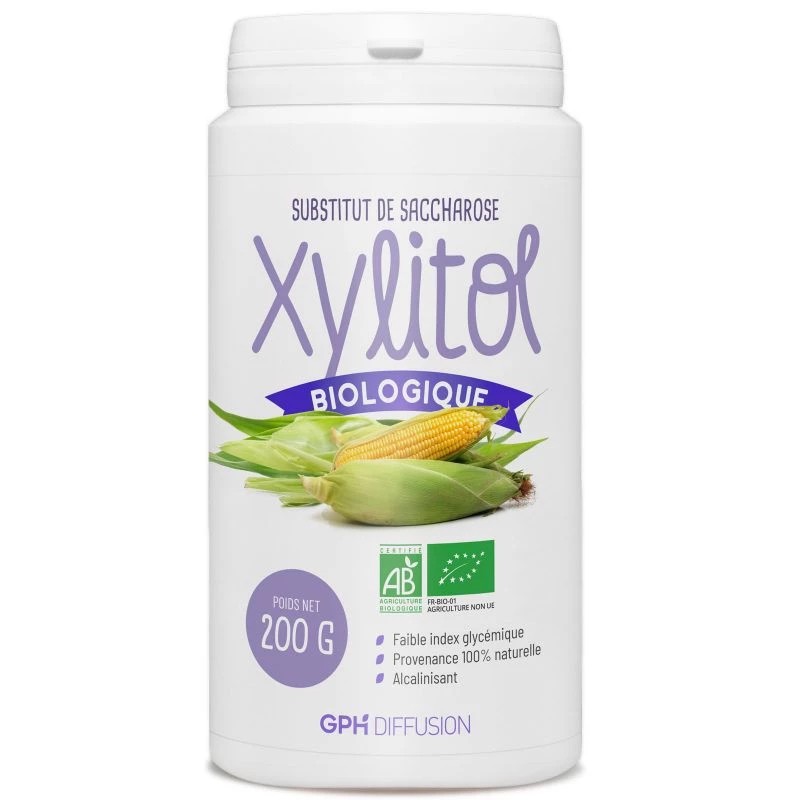  
Organic Xylitol powder
Tax included
Delivery: 3 to 15 days for Europe
A natural sweetener with a strong sweetening power and a very low glycemic index! Ideal for anyone who has to watch out for sugar!
It was in the 1970s that this product of natural origin was put forward by scientists. When they realize that the xylitol present in certain fruits and vegetables could be transformed, a real revolution begins. Xylitol becomes in just a few years one of the best alternatives to replace conventional sugar.
What are the benefits of xylitol?
If xylitol has a good reputation, it is because it has a low glycemic index. In addition, it is almost half the calorie content of white sugar. You can therefore use it in many recipes, whether for making desserts, pastries, crunchy biscuits or in sweet-flavoured drinks.
But the benefits of xylitol don't stop there! It is a non-fermentable sugar (which is not the case with glucose or fructose). By consuming this sugar, the bacteria populating the oral sphere will not have the opportunity to produce lactic acid in large quantities. It must be said that this is partly the cause of the demineralization of our teeth!
Is xylitol good for diabetics?
Since xylitol has a low glycemic index, it is often recommended as a substitute for refined sugar in case of diabetes. Of course, its consumption is not without consequence. Xylitol still contains carbohydrates and it will also be necessary not to succumb to excessive consumption. But it is true that there is no risk associated with its use and if you find it difficult to change your eating habits, it can become an ideal alternative to table sugar.
How to replace sugar with Xylitol?
Do you want to make a recipe by replacing the sugar in your ingredients with xylitol? It is better to know the sweetening power of this sweetener! If you don't heat the xylitol, it will have about the same sweetness as regular sugar. This means that 50 grams of sugar can be replaced by the same amount of xylitol.
On the other hand, if you use xylitol in a preparation that must be heated, whether in a standard oven, in a pan or in the microwave, avoid doses that are too intense! Xylitol then has a strong sweetening power which is superior to conventional sugar by 30 to 50%. So you can halve the amount of sugar to get a similar taste. You can replace 100 grams of regular sugar with 50-75 grams of xylitol.
Usage tips :
To be consumed in the same way as conventional sugar (sucrose).
Precautions and contraindications:
. Excessive consumption (70g per day in adults and 35g in children) can cause transient and harmless side effects (bloating or intestinal disorders).
. Do not exceed the recommended daily dose.
. Keep out of reach of children
. Not suitable for animals
. Very toxic to dogs
Data sheet
Contenance

200 g

Ingrédients

Organic Xylitol Powder

Certificate

BIO

Headphone

GPH
Reviews
(0)
No customer reviews for the moment.
Only registered user can add review.
Login
Customers who bought this product also bought: