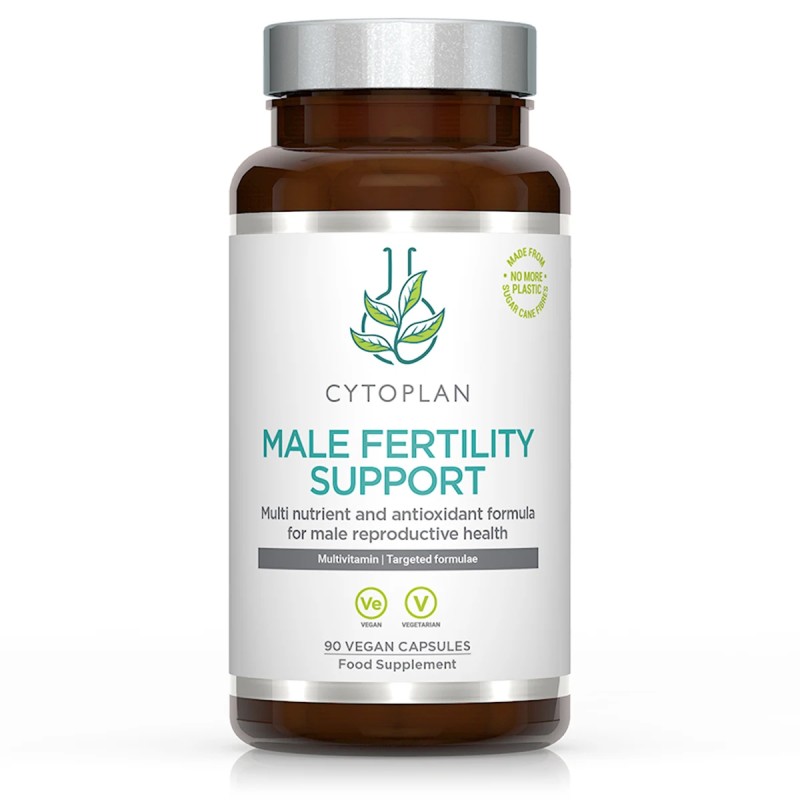  
Male Fertility Support [ dietary supplement ]
Tax included
Delivery: 3 to 15 days for Europe
Dietary supplement based on soy isoflavones for women suffering from hot flashes and other symptoms of menopause.
A comprehensive multi-nutrient formula that delivers nutrients in their most active forms.
Each component has an action that will help fertility.
Zinc is an essential mineral that contributes to normal fertility and reproduction, it also helps maintain normal testosterone levels in the blood.
Zinc and selenium are necessary for spermatogenesis.
Vitamins C, E and selenium contribute to the protection of cells against oxidative stress.
Lycopene, N-acetyl-carnitine, coQ10 are constituents of the male reproductive elements
Vitamin B6 contributes to the regulation of hormonal activity.
Folate and vitamin B12 play a role in the process of cell division.
Take 3 capsules a day with a large glass of water as part of a balanced diet.
No additional multi-vitamin and mineral supplements are needed, this formula is complete.
Nutritional Information for 3 capsules :
Active Nutriment
Strength
%NRV*
+NRV = Nutritional Reference Value
* Indicates no NRV
Vitamin B1
20mg
1818
Vitamin B2
20mg
1428
Vitamin B3
16mg
100
Vitamin B5
50mg
833
Vitamin B6 (as P5P)
10mg
714
Folic Acid (as methylfolate)
200μg
100
Vitamin B12 (as methylcobalamin)
100μg
100
Vitamin B12 (as adenosylcobalamin)
100μg
100
Biotin
14μg
28
Vitamin C
300mg
375
Vitamin E
30mg
250
Vitamin K2
60μg
80
Vitamin D3
55μg
1100
Magnesium
60mg
16
Zinc
15mg
150
Iron
2mg
14
Copper
1mg
100
Manganese
1mg
50
Boron
0.5mg
*
Chromium
160μg
400
Selenium
150μg
272
Iodine
150μg
100
Molybdenum
20μg
40
N-Acetyl Carnitine
500mg
*
CoQ10
100mg
*
Lycopene
10mg
*


Precautions for use :
. Do not exceed the recommended daily dose.
. This product is a food supplement which should not replace a varied and balanced diet.
. Keep out of reach of young children.
. Store away from light, heat and humidity.
. As with any nutritional supplement, consult a healthcare practitioner prior to consumption if you have a medical condition or are pregnant.
Complete composition :
N-Acetyl Carnitine, Vitamin C (as ascorbic acid), Acerola extract (providing vitamin C ), Magnesium (as citrate), Coenzyme Q10, Vitamin E (as succinate), Pantothenic acid (B5), Vitamin B1 (as Thiamine Hcl), Vitamin B2 (as Riboflavin), Vitamin B3 (as Nicotinamide), Zinc (as citrate), Vitamin B6 (as P5P), Lycopene, Iron (as glycinate), Manganese (as citrate), Copper bisglycinate (providing copper), Disodium borate decahydrate (providing boron), Folic acid (as methylfolate), Chromium (from yeast), Selenium (from yeast), Iodine (from kelp), Vitamin B12 (as adenosylcobalamin and methylcobalamin), Vitamin K2 (MK-7), Vitamin D3 (cholecalciferol) from lichen, Molybdenum, Biotin, Hydroxypropyl methylcelluose (capsule shell).
Data sheet
Contenance

90 capsules

Headphone

Cytoplan
Reviews
(0)
No customer reviews for the moment.
Only registered user can add review.
Login