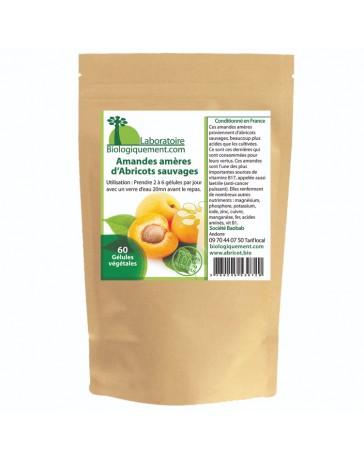  
Bitter almonds of apricot kernels in capsule
Tax included
Delivery: 3 to 15 days for Europe
Important source of amygdalin (vitamin B17), but also many minerals!
Rich in magnesium, phosphorus, potassium, iodine, zinc, copper, mangnese, iron, amino acid, vitamin B1, vitamin B17, but also in carotenoids, tocopherols and natural antioxidants.
The bitterness of the kernels is caused by amygdalin, also called laetrile or vitamin B17. And it is amygdalin that gives the bitter apricot almond its properties long touted in traditional medicine, especially Chinese medicine. The latter uses the bitter apricot kernel for its virtues on the lungs, kidneys, intestines, cholesterol, weight gain ... but also its antibacterial and antifungal properties.
Usage tips :
Take 1 to 4 capsules per day with meals. 
Be careful, amygdalin is cyanogenic. Our bodies use the rhodanesi present in our mitochondria to neutralize it, it is however important to be vigilant when it comes to the quantity of bitter almonds of apricot kernels consumed. ANSES recommends not to exceed three apricot kernels per day.
Contraindications :
. Not recommended for children, pregnant and breastfeeding women.



Precautions for use :
. Do not exceed the recommended daily dose.
. This product is a food supplement which should not replace a varied and balanced diet.
. Keep out of the reach of young children and animals.
. Store away from light, heat and humidity.
. As with any nutritional supplement, consult a healthcare practitioner before consuming if you have any health concerns.
Data sheet
concentration du produit

300 mg

Contenance

60 capsules

Ingrédients

Bitter almond powder from apricot kernels, vegetable capsule (pullulan)

Headphone

Laboratoire Biologiquement
Reviews
(0)
No customer reviews for the moment.
Only registered user can add review.
Login
Customers who bought this product also bought: