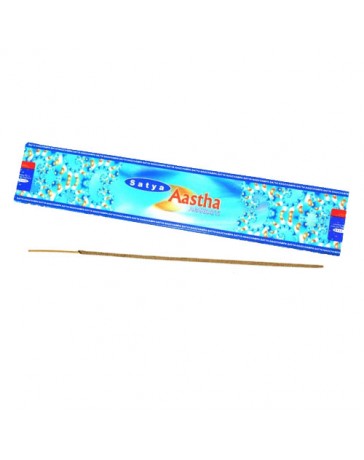  
Aastha Incense
Tax included
Delivery: 1 to 6 weeks
Aastha Agarbatti incense: the slightly floral Nag Champa!
Inspiration :
The original Nag Champa with a clean, slightly floral aroma.
Key olfactory notes :
Musky, Floral
Use :
Traditionally renowned for meditation and relaxation, the addition of special essences brings aromas to Satya Aastha that are conducive to fervor..
Masala incense :
Ancestrally made from a thick paste formed by mixing eight or ten fragrant herbs with sandalwood, a wood powder called jigat, charcoal powder and soft resin. These ingredients are generally dry and contain very little water. The paste thus formed was shaped into cones and then lit to produce smoke known for its cleansing and spiritual power. Later, champa masala was developed by rolling the dough around a bamboo stick. The dry nature of the ingredient paste explains its longevity. Masala incense ages like wine and its potency does not diminish over time. The making of masala incense sticks is today an important cottage industry in India supporting women artisans.
Why buy Satya / Shrinivas Sugandhalaya incense?
At Shrinivas Sugandhalaya, we rediscover an awareness of the social and ecological importance of artisanal incense. The company is the source of fair manufacturing and employment practices. Customers vouch for the quality of their masala incense, while artisans vouch for their ethics. Their artisans receive overhead costs and a fair wage, in addition to work equipment, including masks and gloves. It is a family business where mutual aid and solidarity are essential. The use of bamboo in their work ensures a minimal ecological footprint and is a support for artisans. When you buy Satya / Shrinivas Sugandhalaya incense you are supporting a traditional craft with an innovative history and women artisans who take pride in this craft.
Data sheet
Weight

15 g

Headphone

Satya
Reviews
(0)
No customer reviews for the moment.
Only registered user can add review.
Login
Customers who bought this product also bought: