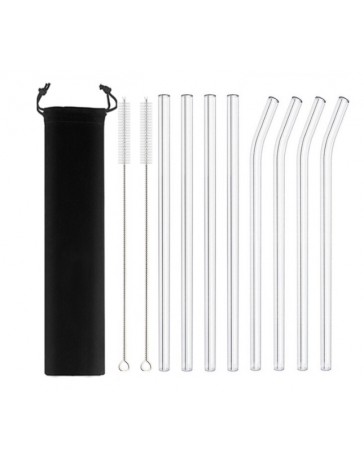  
Reusable glass straws
Tax included
Delivery: 3 to 15 days for Europe
Say goodbye to plastic with our glass straws!
Straw, a small pleasure accessory that children adore, essential for cocktails, generally has one flaw: its plastic material, and its disposable use!
First of all, it's pastic, often colorful, that we put in our mouth, that we often chew, in which our drinks pass… not ideal for children (nor for cocktail lovers).
Secondo, it's pure waste. Indeed, we throw away the straws with each use! And what happens to these straws? Even carefully thrown in the trash, they often end up in nature or the oceans where their small size is a real scourge for wildlife ... For our health and that of our planet, there is an alternative: glass straw!
What does it change ?
For our health, these straws are devoid of plastic or other potentially harmful components. Borosilicate glass is resistant to high temperatures, it is safe and does not affect the taste of drinks in any way.
For the planet, the glass straw is washable, thanks to its included bottle brush, and can be reused endlessly! They even go in the dishwasher. Your glass straws are delivered to you in a storage pouch accompanied by a cleaning brush.
Maintenance tips :
. After each use, clean your straw with the brush. Your glass straws are also dishwasher safe.
. Avoid allowing beverage residue to dry inside.
Advantages :
     Ecological :
. without waste
. durable
     Safe :
. strong materials resistant to temperature changes
. pleasant use
     Aesthetics :
. sober
. transparent
Data sheet
Contenance

8 straws + 2 brushes

Ingrédients

borosilicate glass
Reviews
(0)
No customer reviews for the moment.
Only registered user can add review.
Login