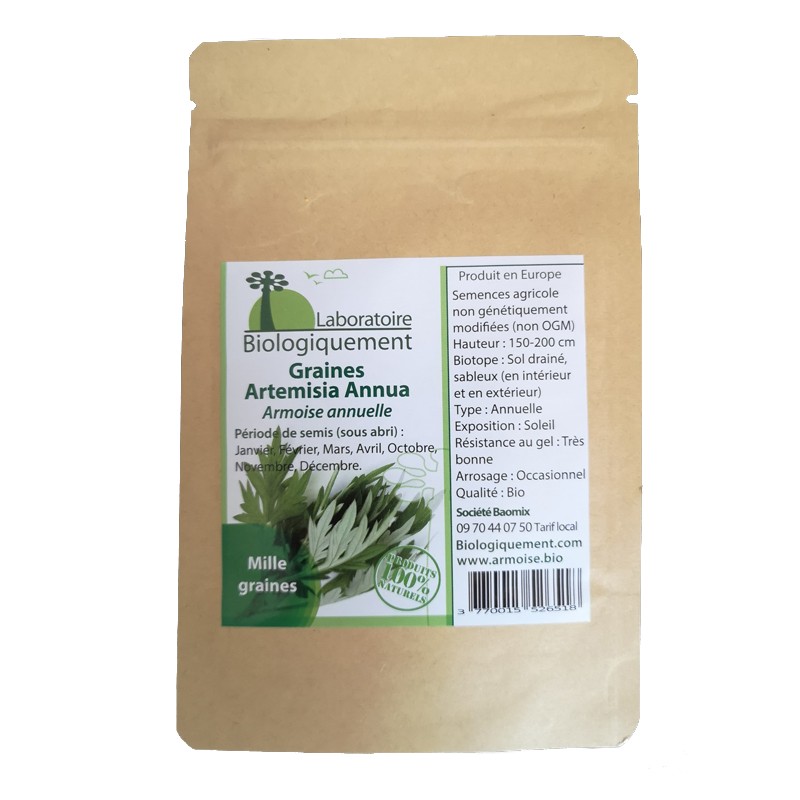  
Mugwort Seeds
Tax included
Delivery: 3 to 15 days for Europe
Artemisia annua seeds for seed.
A plant native to Asia, the benefits of annual mugwort are very numerous. Mugwort has many benefits. Powerful antioxidant, it is rich in trace elements (potassium, calcium, zinc, magnesium, sulphur, iodine, phosphorus). Its field of action is very wide.
In gardens, this decorative plant is perfectly adapted to form annual hedges and produce green foliage to fill out bouquets. To sow from the end of winter until the beginning of summer outdoors, mugwort can grow up to 2m, it likes the sun and dry ground promotes the formation of active ingredients.
Sowing tips:
Sow in trays, under a light shelter. Do not cover seeds that germinate in the light. Keep the seedling moist with a spray bottle. When possible, transplant the plants in individual pots, then in the ground when they have 5 to 6 leaves. The distance between plants should be 60 cm to 1 m. Seed germination can take a few days to several weeks.
The plant has a remarkable development, and therefore the culture quickly covers the ground. However, 1 or 2 mechanical weedings (strawberry between the rows - weeder on the row - no herbicide) may be necessary in the first weeks.
The plant supports a relative dryness, even if it reacts well to a water supply. It is especially at the planting that a little water supply is necessary.
Mugwort annual does not require special care. Prune the plant after flowering to prevent it from taking over the whole garden. Try to contain it in a limited space, by cutting with a spade the rhizomes which tend to want to gain ground. It can show itself in certain grounds, invasive, not only by its seeds but also by its rhizomes.
Harvest tips:
The harvest takes place about 3 months after planting, but at the latest when the buds form. The foliage is picked from spring until the start of flowering. For cooking, only the leaves are harvested, for medicinal use, the flowering stems are also taken. Mugwort intended for infusions is dried in the shade and in the heat. When the leaves are completely dry, store them in a tightly closed container.
Characteristics :
Color : green
Height: 150 - 200cm
Biotope: drained, sandy soil (outdoor and indoor cultivation)
Type: annual
Exposure: sun
Application: flowerbeds
Use: aromatic foliage, herbal tea
Watering: occasional
Semi-sheltered period: January to April and October to December
Frost resistance: very good
Origin of seeds: France (agricultural seeds), unmodified
Precautions for use :
. Do not leave the bag of seeds within the reach of young children and animals.
. Store the packet of seeds away from light, heat and humidity.
. As with any nutritional supplement, consult a healthcare practitioner before consuming if you have any health concerns.
Data sheet
Contenance

about 1000 seeds

Headphone

Laboratoire Biologiquement
Reviews
(0)
No customer reviews for the moment.
Only registered user can add review.
Login
Customers who bought this product also bought: