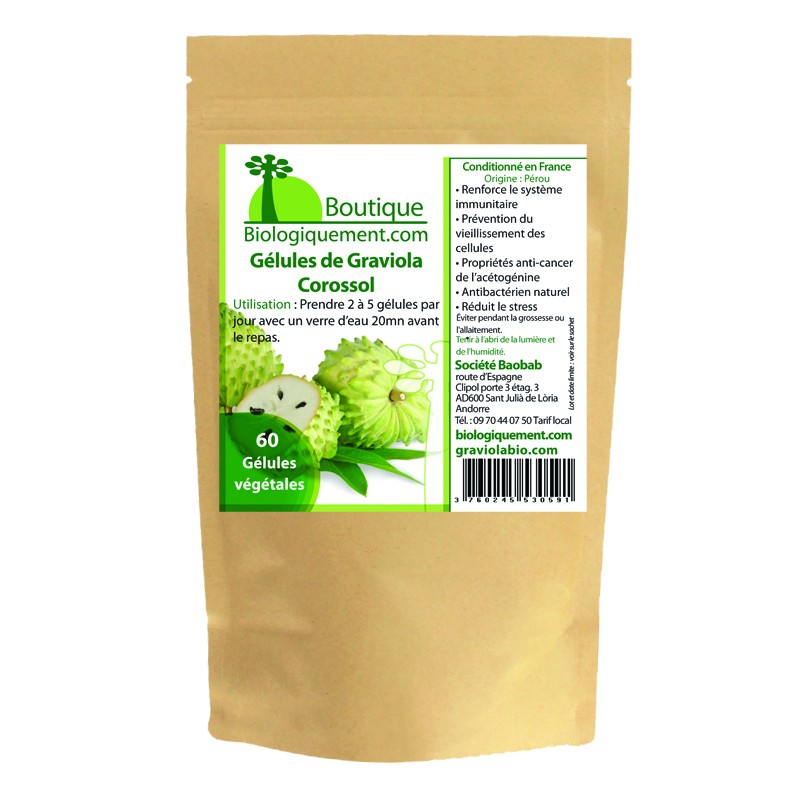  
Graviola Corossol - fruit
Tax included
Delivery: 3 to 15 days for Europe
The fruits of graviola or soursop are a rich source of vitamins and minerals.
Soursop, also called graviola (annona muricata from its Latin name) is the fruit of the soursop tree. Although relatively unknown in France, American researchers have been interested in it since 1976. Graviola is rich in acetogenin: a phytochemical compound that could destroy cancer cells (according to reports by Jerry MacLaughin from West Lafayette University in 1997 and the National Cancer Institute).
It is also very rich in carbohydrates, fructose, ascorbic acid (Vitamin C), lactic and citric acid, vitamins (A, B1, B2) and minerals (iron, phosphorus, calcium). These nutritious assets promote the proper functioning of the defenses
.



Bienfaits :

Vous profiterez de tous les actifs naturels de la plante (oligoéléments, vitamines et minéraux). Les nombreuses vertus du graviola corossol peuvent s'associer aux propriétés d'autres plantes comme le gingembre, la curcumine ou le ginseng pour une action unifiée. 



Conseils d'utilisation :


Prendre 2 à 6 gélules par jour avec un verre d'eau avant le repas.



Contre-indications :


. Si vous suivez un traitement par chimiothérapie, demandez conseil à votre médecin. Certaines molécules utilisées en chimiothérapie peuvent
interagir avec l'acétogénine présente dans le corossol.
. Ne pas utiliser chez les personnes attente d'un trouble lié à une dégénérescence des cellules nerveuses (comme Parkinson par exemple).



Précautions d'emploi :


. Ne pas dépasser la dose quotidienne recommandée.
. Ce produit est un complément alimentaire qui ne doit pas se substituer à une alimentation variée et équilibrée.
. Ne pas laisser à la portée des jeunes enfants et des animaux.
. Conserver à l'abri de la lumière, de la chaleur et de l'humidité.
. Comme avec tout supplément nutritionnel, consultez un professionnel de santé avant de le consommer si vous avez un problème de santé.
Data sheet
concentration du produit

300 mg

Contenance

60 capsules

Ingrédients

graviola fruit powder, pullulan capsule
Reviews
(0)
No customer reviews for the moment.
Only registered user can add review.
Login
Customers who bought this product also bought: