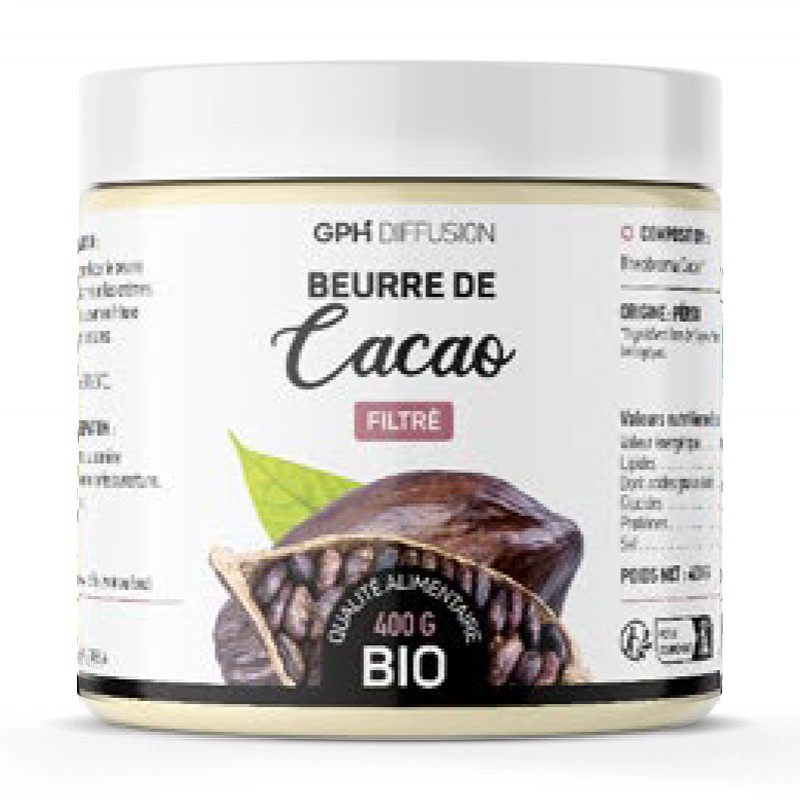  
Organic Cocoa Butter
Tax included
Delivery: 3 to 15 days for Europe
Food grade filtered cocoa butter
Cocoa butter is the vegetable fat obtained from cocoa beans. These are crushed and then pressed to separate the fat from the fibres. The color of quality cocoa butter is ivory. Its texture is creamy. When you open the jar, its light cocoa smell will intoxicate you.
Cocoa butter turns into oil from around 30-35°C. Which is roughly equivalent to body temperature. It is therefore an ideal cosmetic for massages and body care. Cocoa butter is not only used for the body and face. There is edible cocoa butter which is used in cooking.
In cooking, cocoa butter is used for what it is: vegetable fat. It is used in various gourmet recipes, from the easiest to the most elaborate. Cocoa butter is an ingredient of choice for vegan cooking. So you can make delicious desserts without feeling guilty. Cocoa butter is used mainly in baking and to thin chocolate. However, its neutral taste gives it different uses. It can indeed be consumed in savory preparations. It resists up to 200°C, so it can be used when cooking meat, fish and vegetables. The main advantage of cocoa butter is that it is 100% vegetable. In some recipes, it can replace gelatin or agar-agar. It effectively brings firmness to your recipes, solidifying below 30°C.
Already used by the Mayans and Aztecs for food, health and beauty, it is one of the most stable fats known, containing natural antioxidants.
Our Organic cocoa butter is a vegetable fat obtained from cocoa beans which are pressed and filtered. The beans are roasted, split and peeled before being transformed into butter.
Recommended use :
Can replace traditional butter in pastries and creams. Can be used for frying (it withstands high temperatures up to 200°C). Ideal for a vegetarian diet.
Can also be used externally on the skin or in making cosmetics.
Storage tips :
Once opened, leave your jar of cocoa butter in the refrigerator, for better preservation. You can then keep it for 2 to 3 months without any difficulty.
Data sheet
Contenance

400g

Ingrédients

Theobroma Cacao

Certificate

BIO

Headphone

GPH
Reviews
(0)
No customer reviews for the moment.
Only registered user can add review.
Login